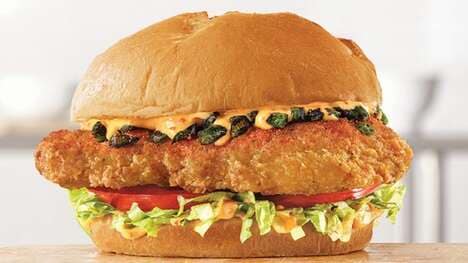 Arby's Canada is bringing the heat this fall with a new Spicy Chicken Sandwich.
Available for just a limited time, the chain's newest menu offering is a spicy take on a traditional chicken sandwich. The dish starts with a spicy seasoned, buttermilk-breaded chicken breast, which is then topped with spicy mayonnaise and diced jalapenos for extra heat. The sandwich also features shredded lettuce and tomato, and is served on a star top bun. While the fresh veggies help to balance out the heat, this sandwich is definitely geared toward fans who like things hot.
The new Spicy Chicken Sandwich is available now from participating Arby's restaurants across Canada, but only for a limited time this fall season.
Image Credit: Arby's Canada