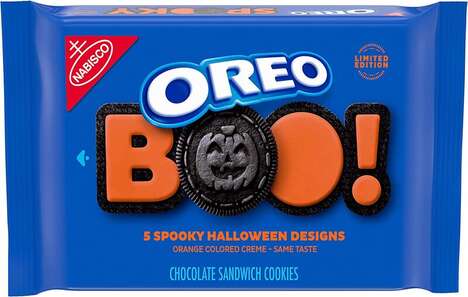 Halloween is nearly here and orange-colored creme Oreo sandwich cookies are once again making a seasonal appearance.
A deliciously spooky twist on a classic cookie, the new orange-colored creme Oreo sandwich cookies are sure to delight kids and adults alike. The new product consists of orange-colored vanilla creme (instead of the usual regular vanilla creme) sandwiched between two chocolate Oreo cookies embossed with various Halloween-themed designs. In fact, there are five designs in total, so you can expect to see everything from smiling jack-o-lanterns, to witches on broomsticks, to cleverly decorated "Dunk or Dare" designs.
The new Halloween Oreo cookies are available now from retailers nationwide for a limited time, as well as through online retailers such as Amazon.
Image Credit: Oreo