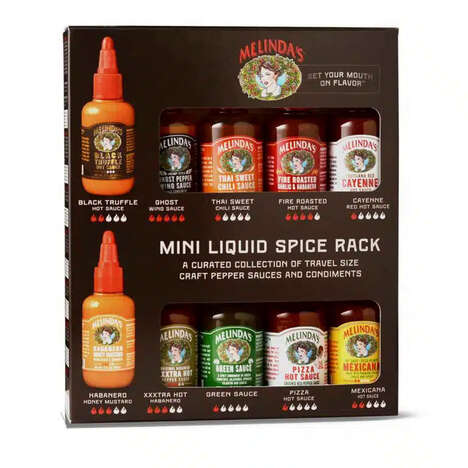 The Melinda's Mini Liquid Spice Rack is a flavorful gift set ideal for the spice lover on your holiday gift list. The curated collection consists of 10 travel-sized craft pepper sauces and condiments that come in a spice rack-inspired box. Each box also features the spice levels and ingredient notes for each blend on the back.
This travel-sized sauce and condiment set features Melinda's Black Truffle Hot Sauce, Ghost Wing Sauce, Sweet Thai Chili Sauce, Fire Roasted Hot Sauce and Cayenne Red Hot Sauce blends along with the brand's Habanero Honey Mustard Sauce, XXXtra Hot Habanero Pepper Sauce, Green Sauce, Pizza Hot Sauce and the traditional Mexicana Hot Sauce | Salsa Picante.
Available on the Melinda's web shop, the brand's Mini Liquid Spice Rack highlights 10 best-selling products from its 32-piece collection of seed-to-bottle recipes.